Page 2 of 2 •

1, 2

Oh, well then...sorry about that silly suggestion.

I didn't know you did, Tina, or did and had a "senior moment."

Lived in one myself years ago...sure understand chained/locked and preferably cemented in place.

DotNotInOz




Posts

: 2795


Join date

: 2009-04-02


Location

: St Louis MO burb



Usually, I grow basil, thyme, oregano, and catnip (for my owner) in order to make my Italian sauce. This year, however, my only goal was to grow tobacco. I purchased seed for only two strains, being Virginia Gold and Black Sea Samsun. I got another 6 strains from the USDA seed bank, which were mostly exotic orientials, and Virginia Brightleaf. Since so many looked to do this in the spring of 09, when the new cig taxes kicked in, I was able to do online trades with others, expanding my tobacco species from the original 8 to 17.

Supposedly, the seeds are not difficult to sprout. The difficulty comes in getting the sprouts large enough to go in the ground. There were some in other forums that couldn't get the seeds to this point and so dropped out and plan to try again next year. I easily got my first 20 sprouts to transplant size. My mistake was fertilizing with fish emulsion when I transplanted them into the ground. There are some animal(s) that come up from the woods that really seem to like fish emulsion, so I lost the first 14 plants. The other 80 seedlings I had started weren't exactly lost, they just got mixed up when the raccoons decided to investigate the contents of the jiffy greenhouse. *sigh* I tossed those, because there are certain blends I wish to experiment with based on species.

So, I only ended up with two plants in the ground, which were planted too late in the season. I next had to go out of town for three months. Having returned, I was quite surprised to see how the tobacco plants had done. They are nowhere near maturity (they should be as tall as I am, but are only waist high), but I started them too late. However, this bit of experimentation on my part WAS a success. The leaves on the Virginina Gold are about 2-5-3 times the length of my size 12 foot. What REGAL plants they are.

So I will try again next year. I do not wish to grow tobacco for cigarettes, because that would require 160 plants every year were I to smoke it. (And it's not worth it gasping for air as I am going up and down the mountain or lifting weights every other day due to smoking.) I have switched instead to snus (the REAL snus from Sweden, not that Camel BS). A year's supply of snus only requires 7 plants and snus has NONE of the health and/or cancer risks that cigs do. I am very curious to know how a 100% Virginia snus will taste, as well as curious to know how Virginia/Turkish blends(at anywhere from 1/4-1/3 Turkish to Virginia), will taste.

HappyKweer




Posts

: 90


Join date

: 2009-09-14


Location

: NC



I used plastic totes with holes drilled into them for drainage for my container gardens. I also have a friend with cows and made sure the neighbors knew that I used manure in each container, my veggies and totes were pretty safe from theft that way.

tiffnzacsmom




Posts

: 13


Join date

: 2009-10-29


Location

: PA



Here's the picture of one of the tobacco leaves. MY shoe in this picture is a size 12, which should give you some persepective on the actual size of the leaves.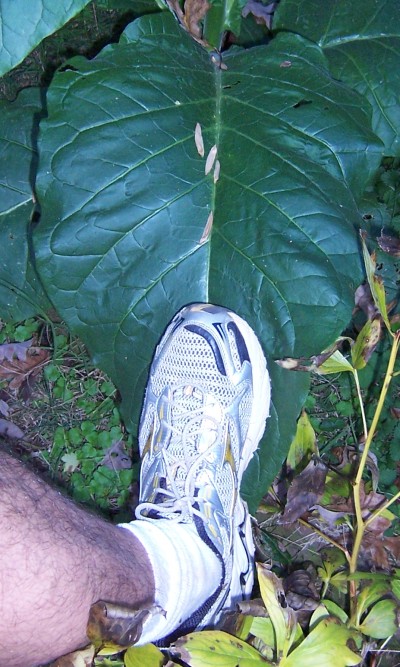 HappyKweer




Posts

: 90


Join date

: 2009-09-14


Location

: NC



Page 2 of 2 •

1, 2


Similar topics
---
Permissions in this forum:
You
cannot
reply to topics in this forum